We are committed to maintaining the natural resources that make our destination so beloved and unique. Planners, convention delegates and visitors alike will receive one-of-a-kind experiences that will enhance their visit while helping protect the natural environment.
Sustainable (Green) Efforts at the Atlantic City Convention Center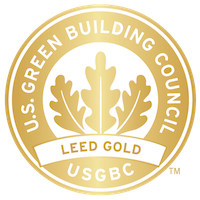 The Atlantic City Convention Center has been awarded LEED GOLD certification. The LEED (Leadership in Energy and Environmental Design) rating system, developed by the U.S. Green Building Council (USGBC), is the foremost program for buildings, homes, and communities that are designed, constructed, maintained, and operated for improved environmental and human health performance. In the past year, strategies that helped improve Atlantic City Convention Center's environmental performance in preparation for LEED recertification, including LED lighting retrofits, close alignment of equipment operations with scheduled shows, ongoing preventative maintenance activities, restroom renovation designs that include installation of low-flow plumbing fixtures, and the start of a robust recycling program.

USGBC(r) and the related logo are trademarks owned by the U.S. Green Building Council and are used with permission.
The Atlantic City Convention Center is committed to preserving its unique seaside environment while providing a clean, safe, healthy atmosphere for our guests.
"Going Green" has consistently been one of the Center's main operating objectives, earning the facility inclusion as a founding member of the Convene Green Alliance.
The facility has successfully reduced energy consumption every year since the building opened in 1997.
It is the goal of OVG360, as good stewards of the venue, to implement sound, efficient, cost-saving programs that contribute to a sustainable environment.
Energy Efficiency: Due to past efforts by the Casino Reinvestment Development Authority (CRDA), the Atlantic City Convention Center installed the largest single roof mounted solar array in the United States on top of the facility in 2009. The solar roof consists of 13,000 individual panels and covers over 290,000 square feet. To date, it has produced 29% of the building's total electrical consumption, most recently accounting for 31% in 2017.
The Atlantic City Convention Center anticipates savings of nearly $4.4 million in electricity costs since its debut through 2029.
Sustainability Efforts: The OVG360 team has invested in large cages on wheels that enable the exhibitors and decorators alike to recycle with ease. Since the cages are see through and labeled appropriately as "cardboard," "vinyl," "clear plastic" or "styrofoam," they make it very convenient for all to recognize the correct placement for their waste.
Atrium Ceiling Fans estimated to produce $80,000
Solar Photovoltaic Panels produce 28% of annual electrical consumption and produced 2,764,235 kwh.
Food Service: Green seal approved chemicals, energy star equipment, local sustainable produce
Recycling efforts in 2019:

Paper, Cardboard: 26,229 lbs.
Glass, Plastic, Aluminum Bottles, Cans, Shrink Wrap: 6.25 tons
Lamps: 16.50 lbs.
Carpet: 4,500 lbs.
Miscellaneous: 69,598 lbs